Physician Telemedicine Adoption Opinions Vary by Age, Specialty
- Telemedicine will be one of the easiest and quickest technologies to implement on a large and meaningful scale, says a new survey by MedData Group, though younger physicians are significantly more likely than their older counterparts to believe that a truly connected health ecosystem is achievable within the next five years. While providers still believe that the costs of constructing a robust telemedicine infrastructure and the limits of current technologies may inhibit the rapid growth of remote care, optimism about the future of home-based consults, population health management, and internet-based physician consultations remains high.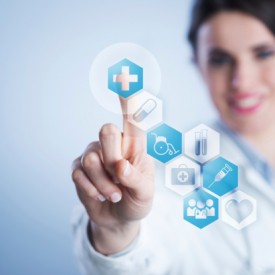 Of the 171 physicians who took part in the poll, 67 percent believed that cost was the biggest barrier to achieving a fully connected healthcare environment that links providers with patients through engagement technologies, video consults, home monitoring, and mHealth.
Just over half responded that technological limitations were also likely to slow down the march of telemedicine, and 50 percent cited potential privacy concerns. Specialists including dermatologists, surgeons, and psychiatrists were more likely to cite cost as a major worry than primary care providers like family medicine practitioners or pediatricians.
While 54 percent believed that provider resistance to changing how they practiced medicine would be a major obstacle for telemedicine, a mere 22 percent said the same thing about patients, indicating an awareness that consumer demand for increased care access and a more connected ecosystem is significantly higher than provider willingness to commit.
This disconnect between patient and provider attitudes about patient engagement through emerging technologies like mHealth and telemedicine is not a new phenomenon. Providers overwhelmed with competing initiatives, quality measures, packed calendars, and dwindling reimbursements don't always feel as if they have the time to spare for more electronic communications, and that sentiment is particularly prevalent among older providers who prefer to focus on delivering patient care to the person in front of them.
"Physicians, especially the older ones and the specialists, have to move into a whole new world, and they are concerned that it's making their life a lot more complicated than it used to be," said Nicolas Boyon, Senior Vice President at Ipsos Public Affairs, director of a study on provider perceptions of patient engagement. "It is partly generational. The average age of practicing physicians in the US is actually slightly over 50, and specialists tend to be even older. A lot of physicians started practicing when the world was very different. They view their role, first and foremost, as caring for patients, and technology was not necessarily what they specialized in or learned a lot about in medical school."
The MedData survey adds weight to that assertion by illustrating a clear age-based divide in optimism about the spread of telemedicine services. Sixty-seven percent of physicians under the age of 40 believed that the healthcare system will be fully connected within the next five years, while 61 percent of physicians over 40 think it will take at least five years for telemedicine and internet-enabled patient engagement to become universal.
Practice size was also a factor in believing that technologies like patient portals are close to becoming widely adopted. While 51 percent of practices with more than 16 physicians think patient portals will be broadly adopted soon, just 27 percent of providers with fewer than 15 practitioners thought the same.