School Telehealth Program Offers a Different Route to ROI
A Missouri school district sees success in a telehealth platform for teachers and staff; now it wants to extend that platform to its students.
- School-based telehealth programs are proving their value in a number of states. But in a twist from the norm, one school district has seen strong ROI in a platform for teachers and staff – and now wants to extend that service to its students.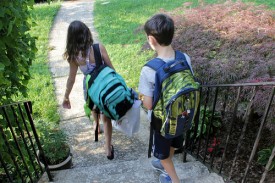 The Cassville School District in Cassville, Mo., has been using the DirectConnect telehealth platform from CoxHealth since January, giving teachers and staff an alternative to calling in sick or taking time off to deal with a minor health concern. Now CoxHealth is applying for a three-year, $220,000 grant from the Missouri Foundation for Health to extend that platform to students in Cassville and five other elementary schools.
School officials said the platform has been a resounding success, both with staff and as a business model for the school district. It might even serve as a model for other school systems looking for a sustainable entry point to telehealth.
"What the school board and I intended to do with this service is provide another embedded benefit to our employees, and at no cost," Superintendent Richard Asbill told the Cassville Democrat. "It makes it a powerful part of our benefits structure."
"Employees who have easy access to healthcare are more responsive to employment needs," he added. "In school business, our employees are exposed to a variety of germs and contagious items. So, by providing a DirectConnect access option to our employees, they are better able to care for themselves or their own family members."
In looking to apply the model to students, Asbill is targeting two pain points: student absentee rates and grades. Students often miss school because they're sick, and if they're dealing with a chronic condition those absences are frequent. This, in turn, affects their grades.
"Our students are our priority," Asbill told the local news outlet. "Any time we can focus good quality efforts on services that benefit our students, we need to take a proactive approach. The initial benefits are hard to clarify. Access and wellness are the first. The intended benefit is wellness and students who come to school healthy and ready to learn."
By improving the students' health and education, the service would also improve the school district's standing, making it eligible for more grants and – combined with telehealth services for staff and teachers – more attractive to new teachers and students.
More important, the service would help parents who take time off for work to bring their children to a doctor. CoxHealth officials said the platform is configured so that parents can take part in their child's telehealth encounter at school.
"It doesn't have to be a smart phone," Bridgette O'Hara, CoxHealth's DirectConnect program manager, told the Cassville Democrat. "Anything with Internet service and a camera will work."
"Having a parent present is extremely important to us so they can carry out that care plan," she added, "because if we say, 'You need to take this antibiotic for so many days,' is the student really going to be able to articulate that to his parents?"
Springfield-based CoxHealth currently uses a Care Mobile unit, staffed by nurse practitioners, that travels to schools around the southwest part of the state, primarily focusing on sports physicals and immunizations. With the grant, the health system hopes to connect a telehealth platform serving the six school districts to that mobile unit, giving the schools real-time access to a provider.
"This services allows them to stay in school," O'Hara said, adding she hopes the platform can eventually be extended to other schools and to help students with more acute needs, like behavioral health and chronic care. "We're working with CoxHealth Foundation to support it. So, we'll be dealing with a lot of resources to make the program successful."
"It's kind of repurposing the Care Mobile service, I think to make it more of what it is designed to do to -- help sick kids," she said. "Healthy kids learn better, so if we can keep them healthy, attendance will improve."
Dig Deeper:
A Successful Lesson Plan for School-Based Telehealth