Survey: Doctors Like iPhone 7, But the mHealth Romance May Not Last
Doximity says doctors have upgraded to the new smartphone faster than the general public, but not as quickly as they've upgraded to the iPhone 5 or 6.
- Whether it's the access to mHealth platforms like CareKit and ResearchKit or a desire to be ahead of the curve, doctors are jumping on the iPhone 7 bandwagon. But that trend may not last.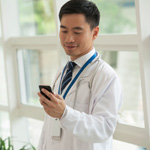 A new survey from Doximity finds that more than 4 percent of physicians snatched up the iPhone 7 in the first two weeks of its release, compared to 3.7 percent of the general public. In all, the survey reports, some 6.5 percent of doctors are now using Apple's latest smartphone.
Whether that trend continues remains to be seen. mHealth apps on the iOS framework still outnumber those using an Android-based system, by roughly 43 percent to 35 percent, but Research2Guidance recently reported that new mHealth apps are more likely to be released on Android than iOS, by a percentage of 86 percent to 81 percent.
More importantly, R2G noted a much larger increase in the number of app developers creating apps for both platforms – up to about 75 percent. Just this month, for example, Sage Bionetworks and Oregon health & Science University launched their MoleMapper app on ResearchStack, the newly developed Android-based platform for clinical research studies that mirrors ResearchKit.
Meanwhile, Doximity says the iPhone 6 is the most popular among physicians, used by more than 80 percent of those surveyed who use an Apple product. But almost 49 percent of the iPhone 6 users have the standard version, compared to 30 percent sporting the 6s or 6 Plus), possibly meaning they're not interested in all the extra bells and whistles.
That may also cool off physician adoption of the iPhone 7 in the future. While the newer version offers improved cameras and speakers, it doesn't offer any mHealth advances that would seemingly get doctors interested in the upgrade.
Of those who are buying iPhone 7s, Doximity found that those still lugging around the iPhone 4 were most likely to seek the upgrade, followed by iPhone 6 users.
Doximity researchers are also wondering whether the iPhone phenomenon may be waning. A company blog points out that the adoption rates in the first month following the iPhone 5 and 6 releases were both much higher than the month following the iPhone 7 release. Both, in fact, stood at about 37 percent.
Outside of healthcare users, Android still dominates Apple in the global smartphone market, comprising 87.6 percent of all smartphone users as of mid-2016, compared to almost 12 percent for iOS and less than 1 percent for other competitors, including Windows Phone.
Among healthcare users, however, the dynamic shifts, with about 80 percent preferring Apple phones. In fact, when the iPhone 6 launched in 2014, Doximity reported, more than 85 percent of physicians were into Apple, compared to just 32.5 percent of the general population choosing Apple over Android.
Whether the recent problems that caused Samsung to ditch its Galaxy 7 change that dynamic won't be known for a while, but Doximity notes that physicians aren't taking any chances. Less than 1 percent of those surveyed are using the combustible smartphone, the company reported.
"This is good news," Doximity noted, somewhat cheekily, in its blog. "If you think a phone catching fire on an airplane is bad, imagine it happening in a hospital surrounded by oxygen tanks."
Dig Deeper:
App + Smartphone = Diagnostic Tool?