Telehealth, mHealth Put The Spotlight on Interoperability at HIMSS18
Telehealth and mHealth announcements at HIMSS18 focused on integration and interoperability, as health systems looked beyond new technology to focus on meaningful connections between remote care and the clinical record.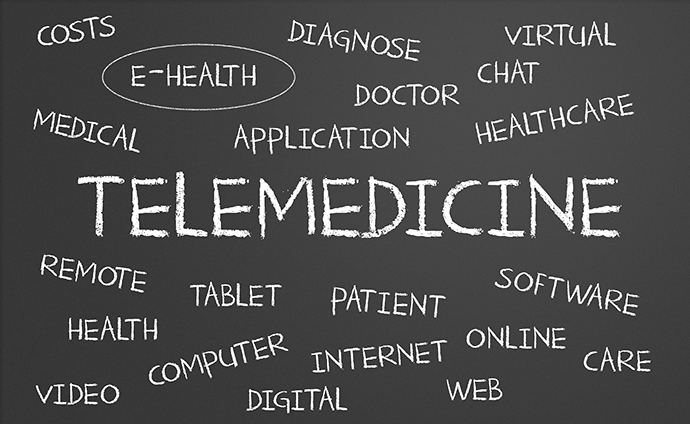 Source: ThinkStock
- For telehealth and mHealth enthusiasts, HIMSS18 was like a healthcare version of The Bachelor – it was all about making the right connection.
The Healthcare Information and Management Systems Society's annual conference and exhibition, taking place last week in Las Vegas, wasn't necessarily about new technologies or tools, aside from the occasional new smart device or sensor-embedded wearable. Rather, the focus was on how healthcare could use the technology at hand to create a pathway of connected care, from the home to the hospital and back again.
And the key component to that connectivity is interoperability.
Validic brought that concept into focus early on at HIMSS18 with the launch of Validic Impact, a remote patient monitoring platform designed to gather data from disparate mHealth devices and integrate them with existing clinical systems.
Health systems are struggling to launch effective RPM programs because they can't combine continuous patient monitoring data with an electronic health record platform that still focuses on episodic care, says Brian Carter, the company's Vice President of Product Development. The problem lies in creating a platform that can pull in streaming data from disparate mHealth devices and create a place for that data to fit into the medical record.
READ MORE: Telehealth, mHealth Make Nurses Pivotal Presence in Healthcare
"Rather than creating an entire, disparate system to manage remote care, Impact works to fill the existing gaps in remote monitoring programs," Validic CEO Drew Schiller said in a press release. "We are enabling teams to build customized programs that meet the needs of the health system and the treatment goals of their patients."
RPM programs haven't built up much momentum yet because of integration and reimbursement issues, but with the Centers for Medicare and Medicaid signaling an interest in new codes and opportunities for payment, and with come pilot programs reporting promising results, the timing may be right for providers to take a closer look.
Another player in the device connectivity space is Qualcomm Life, which launched its 2net hub several years ago and has been building on the platform both inside and outside the hospital ever since. This year the company announced partnerships with AlertWatch, to manage remote monitoring of patients in the hospital, and Perigen, to improve data collection and analysis for labor and delivery clinicians.
"As we grow our intelligent care product platform, we look to collaborate with companies that monitor patients and provide actionable insights for physicians and care teams," James Mault, MD, FACS, Qualcomm Life's Senior Vice President and Chief Medical Officer, said in a release.
Another company in the space, Bernoulli, waited until after HIMSS18 to make its announcement. Just this week, the company unveiled a partnership with New Jersey's Cooper University Health Care to provide enterprise-wide medical device integration with the health systems Epic EHR.
READ MORE: Healthcare Execs Call Telehealth a Priority, But Are Still Reluctant
"Bernoulli's medical device integration capabilities will help us to improve connectivity across the entire health system," Jayashree Raman, Cooper University Hospital's Chief Information Officer, said in a release. "With Bernoulli we anticipate measurably improved automation of patient documentation and simplified clinical workflow that will have a positive impact on provider satisfaction and patient outcomes."
Telehealth and telemedicine vendors also announced partnerships at HIMSS18 designed to make their platforms easier to access – by patients as well as providers.
Royal Philips announced a deal with Samsung to integrate the latter's ARTIK Smart IoT platform with the former's HealthSuite Digital Platform, creating new pathways for smart devices in the home to connect with RPM and telehealth platforms.
"This collaboration will enable healthcare application developers to focus on the development of innovative applications rather than on the technical integration of devices," Dale Wiggins, General Manager of Philips' HealthSuite Digital Platform, said in a release. "By strengthening our HealthSuite ecosystem with Samsung ARTIK, we will be taking another important step in breaking down the silos in today's healthcare domain to create a trusted and seamless care experience for both consumers and care professionals."
"This is an incredibly exciting time in healthcare, as the industry begins to harness the power of data to bring better care to consumers," added James Stansberry, Senior Vice President and GM of Samsung Electronics' ARTIK IoT division, in the release. "Samsung ARTIK-enabled devices and cloud services integrated with Philips HealthSuite can address the growing need for connected health platforms that can safely access, share, and analyze information, helping health systems and providers achieve their goal of delivering better care to consumers, from prevention and detection to diagnosis and treatment."
READ MORE: CMS, AMA Look for Common Ground on Remote Patient Monitoring
In related news, Philips announced that its eICU technology, which enables health systems to create telemedicine hub-and-spoke networks to coordinate ICU care in smaller, more remote facilities, had saved 260 lives over the past year alone in Avera Health's Avera eCARE program, which serves some 13 percent of the nation's critical access hospitals.
The program also reportedly reduced ICU bed days by nearly 11,000 over the past year and saved $62 million in ICU costs by improving care and reducing hospital stays.
"Avera implemented eCARE ICU to support providers in rural communities by reducing physician isolation and improving the collaboration of providers," Deanna Larson, CEO of Avera eCARE, said in a release issued by Philips. "Implementing Philips' eICU program helped our organization transform how we provide critical care while simultaneously reducing healthcare costs. The program ensures the most critical patients are continuously monitored, by leveraging the utilization of telehealth specialists to evaluate and alert bedside providers of the patients' condition."
Samsung also announced two partnerships with MobileHelp, a mHealth and telehealth vendor in the RPM and senior care space. The latter unveiled MobileHelp Touch, an RPM platform with emergency response capabilities built on the Samsung Tab A, as well as MobileHelp Smart, a comprehensive health management solution for people with chronic conditions.
"Research tells us that patients with chronic conditions are some of the most committed users of activity and fitness trackers," Rob Flippo, MobileHelp's CEO, said in the latter announcement. "This solution provides them with an additional level of security though access to emergency response, which allows a patient with chronic heart failure (CHF) to go out for their daily walk and not only track their activity level improvements, but also enjoy the peace of mind that help is just a button press away."
MobileHelp Touch, meanwhile, builds on the company's efforts to create an RPM offering that can transition from a hospital-based service to a consumer-facing product.
"Designed to provide patients with a 'step-down' solution, MobileHelp Touch gives healthcare providers the ability to provide patients with traditional RPM for their entire episode of care," the company announced in a press release. "Following that time period, patients have the opportunity to keep the tablet and peripheral equipment and continue monitoring their own vital signs – allowing healthcare providers to essentially step out of the patient care process – while giving patients the tools they need to engage in their own long-term care."
Fujitsu, meanwhile, introduced the MedClick platform, a cloud-based mHealth solution designed to facilitate collaboration between healthcare providers and their patients in chronic care and other RPM programs.
American Well, one of the nation's leaders in the telehealth space, announced a collaboration with Boston's Joslin Diabetes Center to create new telehealth programs for patients living with the chronic condition.
"We are constantly looking to improve the delivery of the unique care protocols developed here at Joslin to a global audience," Dr. Peter Amenta, President and CEO of the Joslin Diabetes Center, said in a release. "Trying out new and innovative care delivery models, such as American Well's platform, to help scale and extend Joslin's impact, is an important part of making the best diabetes care truly accessible. We are always excited to more broadly share our best practices in prevention, treatment and management."
"Diabetes is a complex, chronic disease that often involves multiple co-morbid diseases and requires careful and continued management," the press release pointed out. "This includes close patient monitoring, medication adherence and lifestyle and behavioral changes – all well-suited for telehealth. Telehealth can connect care teams working with their patients wherever they are – whether via remote triage and referral to diabetes experts or by coordinating treatment programs using multi-way video."
American Well's chief competitor, Teladoc, also announced a partnership. The telehealth company unveiled an expanded collaboration with Microsoft to run its virtual care service on the Microsoft Azure cloud platform, increasing access to the service for patients and providers.
"Teladoc is committed to providing a superior telehealth solution to our clients," Alan Roga, MD, President of Teladoc's Hospital and Health Systems business, said in a release. "Whether it's the Microsoft Azure platform or any of a number of other Microsoft applications that will support the success of our clients' telehealth goals, our focus remains on providing a secure, flexible and reliable platform for all of our health system clients."
Specialists on Call, meanwhile, announced a name change – to SOC Telemed – and unveiled an enterprise telemedicine platform that aims to improve a health system's ability to integrate its own clinical services with SOC Telemed's services.
In mHealth news, medication management company DrFirst unveiled a mobile health app, iPrescribe, designed to improve medication adherence and mobile prescribing efficiency while adding decision support tools to combat opioid abuse.
AT&T, meanwhile, announced a partnership with Aira to develop mHealth technology that can help people with vision issues to manage their medication usage at home.
"Identifying pill bottles is a key challenge for the blind and those with low vision, including the elderly. Together with AT&T, we are addressing this problem with our pill bottle reader project," Suman Kanuganti, Aira's CEO, said in a press release. "Creating a seamless experience is our top priority. Horizon, Aira's voice-first Smart Glasses, can activate Aira through one touch of a button, or by simply saying 'Hey Chloe', to activate the AI assistant."
In another announcement, AT&T indicated it will be providing the connectivity for Dictum Health's Virtual Exam Room product line, a telehealth offering designed to extend care from the hospital to the home.
"Our VER-products are expanding access to clinical and specialist care outside the hospital walls, which is only made possible by the AT&T robust, high-speed connectivity" Elizabeth Keate, Dictum Health's Vice President of Product Management, said in a release. "Virtually connecting physicians to patients using our VER is redefining the house call by providing actionable clinical patient data to the most at-risk patients including those in rural and remote communities."
Finally, Augmedix – one of the leaders in developing mHealth platforms for Google Glass – announced that it is working with California-based Sutter Health to expand Glass-enabled documentation and physician support services through Google Cloud.
"We want to improve the patient experience in every way we can," Albert Chan, MD, chief of digital patient experience at Sutter Health and a family medicine doctor who uses Augmedix and Glass Enterprise Edition with patients during clinic visits, said in a release. "Augmedix has helped expand our care team in a seamless and novel way by saving time and allowing for more meaningful face-to-face time and conversations with our patients during their visits.