Telemedicine Backpack Gives Providers a New Mobile Health Tool
Mission Health will soon be using mHealth-enabled backpacks to reach patients in rough and rural parts of North Carolina.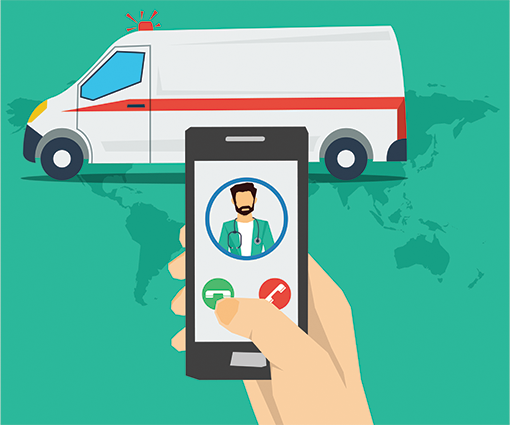 Source: ThinkStock
- EMS providers in the rugged mountains of western North Carolina will soon be using a telemedicine backpack to help hard-to-reach residents with health issues. And the EMS director says it won't take long for that backpack to pay for itself.
"This will create our sustainability plan for the entire program" says Charles Blankenship, manager of system EMS transport for Mission Health, an Asheville-based, six-hospital health system that covers 18 counties in the state.
Blankenship's coverage area includes some of the most rural countryside east of the Mississippi, where broadband is scarce and cellphone coverage is sometimes spotty. On some calls, his staff have to walk a ways to find a good signal to call for an ambulance, or a helicopter, or just to check in with a doctor.
In this region, where access to healthcare is difficult, follow-up care – from medication adherence to regular check-ins and checkups with the doctor – is rare. Blankenship wants to change that by sending his EMS units out with a telemedicine backpack.
"We can do so much more even without the physician being [physically] present," he says. "We can fix a problem before it becomes a bigger problem."
READ MORE: The Benefits and Challenges of Telehealth for Specialists
Mission Health will soon be acquiring two DOT Telemedicine Backpacks created by Lexington, Mass.-based swyMed. Each backpack, weighing less than 20 pounds, is equipped with a rugged tablet designed for rough country, two modems, 15 hours of battery power, four high-gain antennas and an integrated mic and digital scopes.
"Our customers have relayed many stories of how swyMed's technology has helped them provide quality care in crisis situations, as well as in community care programs," Stefano Migliorisi, swyMed's CEO, said in a press release announcing the backpack's presentation at this week's Healthcare Information and Management Systems Society (HIMSS) 2017 conference and exhibition in Orlando. "From paramedicine care providers who are reducing readmissions via home visits to EMTs in ambulances who connect with neurologists for telestroke consults while on the move, innovative hospitals and healthcare systems count on us to provide a consistent, high-quality connection to a physician, saving not only time and money, but lives as well."
Blankenship, whose health network already has a Cisco-based telemedicine platform that even includes robots at its remote clinics, sees these backpacks as a key to community-based population health. He's looking far beyond the 911 and emergency calls, to a day when his crews can take these backpacks to visit recently discharged patients, those with chronic conditions, those who have missed doctor's appointments – and especially those frequent healthcare users who stand the biggest chance of heading back to the hospital in the near future.
"These are the ones who need us the most," he says. "It's not as much as what we're doing right now – it's where we see EMS transitioning in the future. … We're trying to take [the community paramedicine concept] to the next level."
Blankenship is one of a number of healthcare providers around the country who see EMS and paramedic services as far more than just emergency care. Armed with a telemedicine link to local health systems, they can deliver preventative and follow-up care, improving outcomes by helping people stay healthy at home. This, in turn, reduces hospitalizations, rehospitalizations (now becoming heavily penalized) and unnecessary trips to a clinic or doctor's office. With such a program in place, it can even enable hospitals to discharge patients earlier.
READ MORE: Factors Behind the Adoption of School-based Telehealth
"We are essentially the eyes and ears for their healthcare provider without patients having to leave their homes," Amie Allison, EMS Director at the Glacier County Community Health Center in Montana, which recently launched the state's first Integrated Mobile Health Service Program. "We have a variety of options of care services. For example, we provide chronic illness care and training, basic wound care, new mom visits, lab draws, IV catheter change, extended hospice services or end of life care and immunizations and vaccinations, just to name a few of the services we can provide."
The program's goal is a "decrease in hospital readmissions, a decrease in emergency care transports, hospice revocation avoidance and savings in healthcare dollars for our patients and their families," Allison said. "Having the opportunity to work with patients in the homes or work sites gives us the chance to be proactive instead of reactive."
Mission Health Partners, one of the state's largest accountable care organizations, is structured to make this program sustainable, Blankenship says. While the two-backpack pilot program will be funded through a grant and some investment capital, Medicare and Medicaid reimbursements should kick in as soon as the health system establishes a routine of using the backpacks three-to five times a week.
"We're multiplying our ability to see more patients," says Blankenship, who estimates the program will become sustainable once the system averages 12 patient encounters a week.
"This is something you can throw over your shoulder and go out the door with," he says. "It's a much more user-friendly system. And when patients see us coming out to them [with the backpack] and find that we care about them and what to give them a little help … they start caring more about themselves as well."
READ MORE: Broadband: The Missing Link to Rural Telehealth Success
Blankenship says he's been most surprised at how the program "is kind of falling into other areas." For example, pediatricians see the backpack as an ideal means of delivering care to children with asthma and other respiratory issues in their homes or at school, rather than trying to get their families to bring them to a doctor's office that may be hours away.