The Importance of Reimbursement in Telemedicine Adoption
- The policies surrounding mobile health implementation and telemedicine adoption could have a big impact on the healthcare industry in the coming years, as it could very well be reimbursement from the federal and state governments that could push forward the proliferation of mHealth products and videoconferencing technology.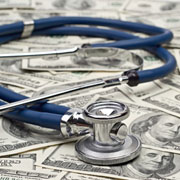 The Healthcare Information and Management Systems Society (HIMSS) gathered a group of physicians and experts to discuss how reimbursement throughout the healthcare field affects telemedicine adoption.
Currently, the biggest barrier to telemedicine adoption and mobile health implementation is the ongoing lack of reimbursement models for physician efforts. There are certain reimbursement restrictions taking place in telehealth legislation that need to be removed. For example, the Centers for Medicare & Medicaid Services (CMS) reimbursed only $12 million in telehealth services two years ago.
Also, technology needs to improve in rural communities. Specifically, wireless connections need to strengthen and offer more mobile solutions and Internet coverage throughout rural locations.
Additionally, regulatory policies need to keep up to date with the ongoing technology innovations in order to truly improve the quality of patient care and health outcomes. Along with these barriers, sometimes consumer acceptance is low and the quality of care provided in virtual settings is uncertain.
EHR integration with mobile health solutions and telemedicine adoption strategies needs to be addressed in order to ensure all patient data is collected safely and securely. The HIMSS focus group offers a variety of solutions to address the reimbursement issues and other problems surrounding telemedicine adoption.
For example, communication channels between legislators and state medical boards will need to be strengthened, the focus group explains. Also, it would be beneficial to work on improving Medicaid coverage models. Another suggestion delves into state health information exchanges, which should consider promoting telemedicine programs.
In addition to these propositions, the physician group suggested developing an interstate licensure procedure in which telehealth providers would be able to treat patients remotely regardless of what state they reside in.
The focus group also posed an interesting idea to include telehealth implementation requirements within the meaningful use program. This could lead to greater care coordination and remote patient monitoring use throughout the healthcare industry.
With the implementation of mobile health tools and telehealth technology, it is also vital to address patient privacy and security issues. A joint conference between the International Association of Privacy Professionals and the Cloud Security Alliance Congress (CSA) took place recently called "Privacy. Security. Risk. 2015," according to the JDSupra publication.
"Companies should consider how the adoption of Big Data-based security might erode privacy, and whether the collection/use of such data comports with their current internal and external privacy policies. As with any new technology, developers and implementing companies should conduct a privacy impact assessment and follow privacy-by-design principles to evaluate the contours of notice/awareness, choice/consent, access/participation, integrity/security and enforcement/redress," JDSupra stated.
"Mobile and connected device tracking is becoming increasingly sophisticated, leading to a burgeoning wave of data collection. From cars to smart televisions to fitness trackers, the Internet of Things, as well as mobile device tracking, mobile ads and cross-device tracking capabilities were widely discussed panel topics," according to the publication.
"While much of the discussion was devoted to the need for traditional privacy and security assessments, including disclosure and choice mechanisms, data minimization and anonymization, an important undertone emerged throughout the week. As the IoT and cross-device tracking mechanisms proliferate, so too does the quantity and quality of data collected. Just as the mobile device environment revolutionized Big Data analytics projects by adding context and a geographical dimension, IoT and cross-device tracking data offer the ability to enrich data sets even further."