Three BYOD Implementation Strategies Hospitals Should Follow
- The world around us has changed drastically in the last several decades. Today, it's difficult to find an individual who isn't glued to their smartphone or other gadget. The growth of the Internet has played a major role in revolutionizing the possibilities behind technology and led consumers to constantly focus their energies on tablets, smartphones, laptops and other mobile devices. As such, many companies have developed BYOD implementation strategies to ensure their data remains secure.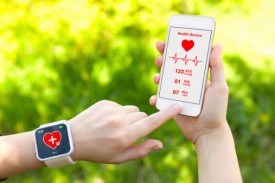 Bring Your Own Device remains a solid system for many corporations today and the healthcare field can follow effective BYOD implementation strategies if their privacy and security measures are up to par with industry standards.
Dr. Robert G. Graw, Jr., Chief Executive Officer of Righttime Medical Care, told mHealthIntelligence.com about the importance of patient data privacy and security when it comes to adopting BYOD policies at hospitals and other healthcare systems.
"[Safety and security] is the name of the game today. Folks would like to be sure that in all circumstances their private health information is not shared with anybody but the medical clinician who is treating them," Graw told mHealthIntelligence.com.
"So it's very important. We looked at the various types of communication that people can have – whether it be an email in our organization or an email that was sent back and forth. One of our first questions by our in-house council and IT folks is whether it's secure and could it be captured for any other purposes than was intended. [Our clinicians] only use smartphones, computers, iPads, and etcetera from our corporation that are secure."
According to Business2Community, many companies are adopting BYOD implementation strategies in order to cut costs and improve productivity. One past study showed that at least three-quarters of institutions have either adopted a BYOD program or are planning on implementing one.
There are specific steps that any healthcare organization should follow when implementing a BYOD program. With the wide variety of issues behind BYOD, from security concerns to an expansion of work hours, BYOD implementation strategies will need to follow key stages to ensure success.
Develop Clear Goals
Moving from corporate-owned computers or smartphones to employee-owned iPhones or laptops is not an easy move for any medical facility or company. While the low-cost aspect of the BYOD program is very intriguing for most, moving quickly into this environment without setting clear goals could be risky.
First, it's important to address why you're looking to adopt BYOD implementation strategies and what you're looking to achieve with this type of policy. Are you looking to improve employee morale with the BYOD program or improve efficiency? Setting clear goals for the program is important.
Work with the IT Department
It is vital to speak with experts from your tech department before implementing a BYOD program. Essentially, it's necessary to develop effective policies and management solutions behind the BYOD network.
Medical facilities in particular will need to decide which devices to support when creating BYOD implementation strategies. Whether it's laptops, tablets, or smartphones, IT professionals will assist in creating effective privacy and security features to ensure patient data remains protected.
Additionally, vendors could work with an organization to create a more uniform system for their BYOD policies and even offer employee discounts for device purchase.
Set Up Training Sessions and BYOD Policies
There are a wide variety of questions that must be addressed when creating a BYOD policy. For instance, what devices will be supported and for what purpose will employees use these technologies? Are there any specific apps that the BYOD policy will support?
When training your employees on the BYOD program, it is important to sit down with them and discuss all privacy and security issues behind the policy especially if patient data or financial information is concerned.