Using mHealth to Vault the Barriers to Value-Based Care
Value-based care models will show success, a Connected Health Symposium panel says, when providers use mHealth to improve outcomes and foster collaboration.
- mHealth may help healthcare providers move toward value-based care, but the road won't be easy.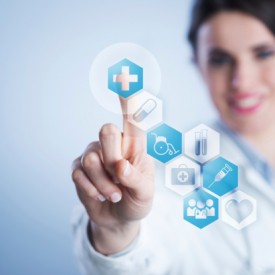 For example, a primary care provider might use a digital health platform to improve clinical outcomes for patients, resulting in a substantial drop in office visits. This, in turn, would upset the PCP's revenue base, forcing doctors to conclude that the platform isn't sustainable. Boom – failed experiment.
"We've got a system that's fundamentally built for a different business model," says Greg Weidner, MD, FACP, medical director of primary care innovation and proactive health at Carolinas HealthCare. "It does require a reimagine and rebuild of the delivery system.
But is it feasible? A panel session at this week's Partners Healthcare Connected Health System said it's not only doable, but necessary.
"We know that we need to be on the path to value and that our progress needs to pick up," said John Moore, MD, PhD, CEO of Twine Health, a telehealth vendor that works with risk-bearing providers to move to value-based outcomes.
Such a platform, Moore said, enables providers to separate themselves from restrictive payment models and "practice healthcare the way they were meant to."
Since healthcare is primarily still volume-driven, the path to value-based care is slow. It faces a cultural barrier imposed by time-honored standards of care and routines, as well as regulatory and policy barriers that – through Stark laws, anti-kickback measures and even HIPAA – frown upon collaboration and the sharing of information.
"Our laws assume aligning incentives is a bad thing," said Charles Buck, an attorney with McDermott, Will & Emory. Those regulations "keep doctors and hospitals a little bit at arm's length," because it was assumed that providers and payers would make too much of a profit when allowed to run freely in a fee-for-service landscape.
But Buck also sees some evolution in the landscape – beginning with the Centers for Medicare & Medicaid Services, which is aggressively moving toward alternative payment models that reward outcomes – bundled payment programs, MACRA, MIPS and affordable care organizations, for example.
"They're still problematic and mindlessly complicated," he said of those programs, but they represent "a fundamental shift" in the federal government's definition of healthcare value.
Weidner says healthcare providers have to "be crafty" in their adoption of value-based platforms, and he's doing that at Carolinas HealthCare. His new program, called Proactive Health, aims to "rebuild primary care from the ground up" by putting the patient at the center and building the healthcare ecosystem around him or her.
This takes the emphasis off of crisis care or care plans based on doctor visits, he says, and refocuses on the fact that "health happens in the fabric of people's lives." It involves structuring care around health and wellness coaching and healthcare "touches" when they're most effective.
Moore, meanwhile, sees large healthy systems breaking off pieces of healthcare – like online primary care visits for staff or telehealth platforms with local businesses – to test the value-based care concept, then scaling up and out as the concept takes hold and becomes sustainable.
Providers need to develop confidence in the platforms and tools, added Buck, noting they're "been sold a lot of promises" in the past that haven't held up.
Above all else, he says, they need to have faith in changing patterns that haven't proven effective or aren't sustainable.
"Medicine is routine," he pointed out. "That takes time to change."
Dig Deeper:
Using Telehealth, mHealth to Advance Value-Based Care