Using Telehealth, mHealth to Advance Value-Based Care
At Dartmouth-Hitchcock Medical Center and UMass Memorial Health Care, providers are using telehealth and mHealth to redefine how healthcare is delivered - and measured.
- Healthcare's march toward value-based care is complicated. And with roughly three-quarters of the industry still focused on volume, it's safe to say the revolution isn't happening overnight.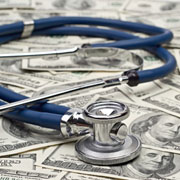 But some forward-thinking health systems are finding success. And they're using telehealth and digital health tools.
"We have to define value in lots of different ways, but I think that's an advantage in the telehealth space," says Sarah N. Pletcher, MD, founder and medical director of Dartmouth-Hitchcock Medical Center's Center for Telehealth, which uses telehealth to reach out to a network of rural communities across northern New England.
"There are all sorts of barriers, more to delivery than adoption," she says. "But when you talk about (providing care) to people who don't have access, that's a good start" to defining value.
In Massachusetts, Thomas Scornavacca, Jr., DO, senior medical director of UMass Memorial's population health initiative, uses mHealth platforms to align providers with patients in a much more urban setting. His priorities lie in helping physicians within the health system's accountable care organization to manage patient populations.
READ MORE: ATA Survey: Parents Like Telehealth for Primary Care Needs
"We're right at the brink of being ahead of the curve," he says of the new risk-based landscape. "You have to be transparent in how you view quality in this environment, and give the primary care providers a voice in how they want to move forward."
mHealth, he says, "is a huge component of how we try to accomplish value-based care."
Pletcher and Scornavacca will be sharing their experiences and ideas at Xtelligent Media's Value-Based Care Summit, scheduled for November 15 in Boston. Their panel session, "Using Telehealth to Connect Providers, Patients and Payers," will take place from 3:30 to 4:45 p.m.
Pletcher, whose health system now includes telepharmacy, telestroke, teleneurology and tele-ICU care, sees Dartmouth-Hitchcock as the hub of a network that extends into rural Vermont and New Hampshire, offering services to smaller hospitals that don't have the resources. To her, value is defined in helping smaller providers serve their own communities, and in improving clinical outcomes by giving patients quick and easy access to care. That cuts down on waste, reduces hospitalizations and improves long-term care management.
The struggle, she says, lies in creating platforms that can be sustained, especially in an environment that still favors volume-based care.
READ MORE: Blue Cross Blue Shield of GA Offers Maternity Telehealth Program
"We need to recognize that we still have a foot in two canoes," she says. "That means having some difficult conversations with stakeholders" about what services can be offered and what can't.
It also means being aggressive in seeking grants – she has sought and received dozens since the telehealth center opened in 2012 – and using them not on actual care delivery, but to design and develop technology platforms and build sustainability.
"It's pretty easy to make the case when you've got a state full of rural communities," she says.
Scornavacca, meanwhile, sees the challenge in helping overburdened providers manage populations of patients. It's great when a doctor can help one diabetic patient reduce his or her a1C levels, but what about the dozens of other patients not doing so well?
"It's not technology adoption that we struggle with – it's engagement," he says.
READ MORE: Telemedicine Success Linked to Workflow, Rather Than Technology
With telehealth and mHealth programs, Scornavacca sees providers reaching out to and connecting with more patients, developing care management plans that help patients every day, not just when they manage to get to a doctor's office. That value is seen in better patient-reported outcomes, as well as patient satisfaction ratings.
Likewise, Scornavacca says, payers won't embrace – and more importantly, reimburse – such platforms unless it's proven they can move the healthcare quality needle on large numbers of people, not just one person here and there. So many programs have died on the vine, he says, because providers weren't able to scale them up.
Providers "have to learn how to enhance the physician's workflow," he says. That means creating a system that puts the patient at the center and funnels in access to specialists, collaboration with all members of the care team, wellness and chronic disease management and post-discharge care pushed out to the patient.
This, in turn, reduces ER use and hospitalizations and improves clinical outcomes. Put enough of those together, he says, and you have an effective population health program.
To learn more about how healthcare providers can leverage big data analytics strategies for a successful transition to the value-based care environment, sign up for a seat at the Value-Based Care Summit on November 15, 2016.
Visit ValueBasedCareSummit.com today to register.
Dig Deeper:
In the Northeast, Telehealth Gets Creative with Good Results